October 11, International Day of the Girl Child, is a momentous global event that illustrates the ongoing struggle for gender justice while championing girls' rights across the globe. In every corner of the world, there is a courageous girl, fighting the pervasive gender inequality that's hindering her right to education, healthcare, and a safe healthy life. International Day of the Girl is an opportunity to remind every individual that women's rights are not a privilege but an inseparable facet of human rights.

This case study delves into critical issues impacting girl children highlighting stories of resilience, celebrating empowered women as change-makers and how Karuna Fellowship is shaping the lives of women.
Join us on this enlightening journey as we celebrate resilience, strength, and hope on International Girl Child Day to reaffirm the Commitment to Building Bharat by creating an environment where every girl can thrive.
DID YOU KNOW
Education
Only one in every three girls in India completes school education age - approximately (U-DISE 2016-2017)
Violence
28% of all rape victims were girls under age 18
Social Evil
The unabated female foeticide is leading to bride crisis and bride trade in India
Health Care
The leading causes of maternal death in India are obstetric haemorrhage (47%; higher in poorer states), pregnancy related infection (12%) and hypertensive disorders of pregnancy (7%).
Mortality Rate
Women with less than 8 years of education have 32% greater chance of losing their child in the neonatal period and 52% greater chance of losing in the post-neonatal period.
Dowry Death
Dowry issues cause 1.4 deaths per year per 100,000 women in India.
EMPOWERING WOMEN BEYOND ECONOMICS
Elevating women's economic status stands as a paramount development priority within the framework of Building Bharat. Karuna Fellowship represents a significant stride in this direction, aiming not only to empower women through various skill training programs but also to instil a conviction that communities can develop and sustain with knowledge and skill sets. However, in certain scenarios, empowerment transcends beyond income generation.
Hema Rajoriya, a 23-year-old resident of Jaipur embarked on the path of empowerment to set a powerful example for her two sisters.
As a young girl, she saw her aunt facing domestic violence during her pregnancy. The harrowing experience gave her a new meaning of empowerment, i.e. empowerment is the path to safeguard dignity. She witnessed the desperate measures her family took to protect her aunt from abusive in-laws. A false story was spread that her aunt gave birth to a blind girl child when it was a boy. This episode is etched in Hema's memory underscoring the societal burden on a girl.
Despite supportive parents, her journey wasn't smooth because of her community. Currently, a Karuna Fellow working at the RCERT office in Jaipur, she continues to wait for the right moment to prove that being a girl is not a curse.
Hema's story represents the story of India, where the maximum resistance to woman empowerment originates within one's own family. The compelling story of Karuna Fellow Poonam serves as a poignant illustration of how, at times, it takes a life-altering mishap to truly understand the significance of self-sufficiency.
Hailing from Baggar, Poonam was born into a patriarchal family that curtailed her educational aspirations and compelled her into an early marriage.
Her life took an unexpected turn when her husband tragically passed away after seven years of marriage. It was in this moment of adversity that Poonam discovered her resilience and determination. Eventually, with the support of her relatives and the opportunity of Karuna Fellowship, Poonam embarked on her journey of transformation.
But often, families that support women's empowerment find themselves subject to scrutiny and criticism within their communities.
Bhavana Sharma, 25, a resident of a small village in Jaipur, was fortunate to have a family that consistently encouraged her to pursue a proper education and build a career.
However, this path toward empowerment came at a cost, as her parents had to endure relentless taunts and disapproval from their own relatives.
Bhavana represents not only a beacon of hope but is the catalyst for positive change, reshaping the aspirations and opportunities for the girls in her village.
A JOURNEY OF A GIRL CHILD AND HER CHALLENGES
An estimated 4–12 million sex-selective abortions of girl child have occurred in various Indian states during the past three decades which highlights how a girl's battle begins in the womb. Though the National Family Health Survey 2020-21 (NFHS-5) by the Ministry of Health & Family Welfare Government of India shows India's sex ratio at 1020 females per 1000 males, the sex ratio at birth (SRB) remains skewed.
In India, despite legal bans on prenatal sex determination, girl child foeticide persists across all socio- economic strata. Those who survive infancy often face challenges like child marriage, child labour, and female genital mutilation before they even reach the age of 10. Some are even sold into child labour and bride trade due to their parent's financial desperation.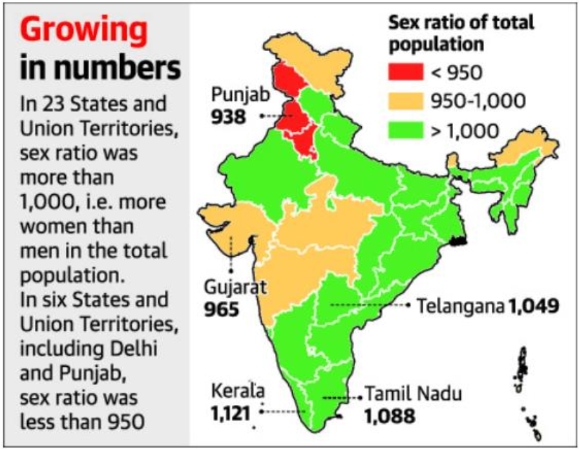 Source: The Hindu
Cultural biases continue to perpetuate norms that prioritize girls' domestic roles over their right to education. Moreover, the lack of sanitation and hygiene in schools poses a significant threat to girls' education. Many struggle to manage their menstrual cycles because schools often lack basic amenities such as running water, soap, and sanitary napkin disposal systems. This multi-faceted issue underscores the complex and interconnected challenges faced by a girl child in India.
A Crisis in Child Abandonment and Education Facilities
There's also an immense pressure on mothers in socially conservative families to 'provide' a son as a responsibility which often leads to child abandonment. In such situations, women are forced to make a heart-wrenching choice between giving up their daughter or leaving the family with the infant.
Jyoti's story is a compelling example of resilience.
As a single mother, she escaped domestic abuse and sought the mentorship of Karuna Fellowship to secure a better future for herself and her daughter. Through the program's mentorship, Jyoti managed to secure a job as a Credit Executive at Piramal Capital and Housing Finance, which gave her a second chance in life breaking the cycle of abandonment and societal pressure.
CREATING THE RIGHT ENVIRONMENT FOR GIRLS TO SHINE
For a girl to shine, the first hand that she seeks is the support of her family.
Whereas there are women like Dolly Kumari from Bhagalpur who have full support from her family to bring a positive change in the health sector in Bihar, there are also women who are struggling to have basic access to education and equal opportunities.
In many instances, it is the women themselves who create the right environment to drive change within their communities. Some remarkable women have not only recognized the obstacles they face but have also harnessed their difficulties as catalysts for transformation.
Sindhutai Sapkal, the 'Mother of Orphans,' overcame homelessness.
Giving birth in a cow shelter, she started begging on railway platforms for her survival. Later, in her life, she adopted over 1400 orphans to provide them a better life.
Aditi Gupta, co-founder of Menstrupedia.
At the age of 12, confronting cultural taboos around menstruation finally launched a Hindi comic book in 2012 to break the silence by promoting awareness and knowledge about menstruation and hygiene for girls.
WOMAN IN TRIBAL AREAS
Creating an enabling environment for girls often challenges pervasive gender bias and stereotypes. Sometimes, the strong grip of traditional beliefs without the balance of knowledge and skills leads to fatal outcomes.
Jasmine Kohra's story, a Karuna Fellow from the Koraput Praja Community in Odisha, highlights the profound challenges faced in tribal areas, where the deep-rooted Bali culture led to tragic incidents leading to a situation where a desperate mother influenced by a local spiritual leader ended up slitting her 2yrs old's throat.
Jasmine's steadfast commitment towards bringing Change made her establish Anandgiri Foundation, which is dedicated to abolishing harmful social practices and promoting education. With a team of 30, the foundation making a tangible impact in neighbouring villages by addressing entrenched community challenges.
Programs Supporting Girl Child Development
In the ongoing battle against gender discrimination and the pursuit of gender equity, both the Indian government and a multitude of stakeholders have initiated various measures. Addressing the alarming disparity in the sex ratio and empowering and safeguarding the rights of girls and women, these collaborative efforts aspire for an equitable and inclusive Bharat.
Acknowledgments
Strategically allocating resources to girls' healthcare and education is both prudent and morally imperative, as it ensures their well-being and empowers them for self-reliance and positive community contributions. Numerous organizations and initiatives are working tirelessly to promote the empowerment of girls which is a significant step towards Building Bharat.
Gratitude towards individuals who are silently contributing to voice this message of International Girl Child Day.
Utmost respect and heartfelt gratitude to Geeta Kannuppilai, Senior Program Director, Shared Services, Communications, Piramal Foundation and Anwesha Chowdhury, Senior Program Leader, Shared Services, Communications, Piramal Foundation for their invaluable assistance in compiling the stories for the narrative. Thank you for being an essential part of this meaningful endeavor.
Story and visual data courtesy
Aparna Banerjee, Program Director, Communications, Digital Bharat Collaborative (a part of Piramal Foundation)
Swati Patel, Program Director, Karuna Fellowship
Smriti Gupta, Senior Program leader, STP program, KEF
Kamaljeet Vasani, Senior Program Manager, Shared Services, Communications, Piramal Foundation
CONCLUSION
International Day of the Girl Child is a global movement that emphasizes the inextricable link between women's rights and human rights. The case study illustrates the transformative potential of women when they are provided with the right mentorship and support. It reassures the fact that when resilience and determination are empowered and supported, women become leading forces in Building Bharat.
REFERENCES
https://convoyofhope.org/articles/international-day-of-the-girl-child- 2023/?__cf_chl_rt_tk=z0Ru0EURChcOGBRcT53_IdVz_It7hEd1gGKbRyoVYeU-1696189455-0-gaNycGzNDXs
https://balrakshabharat.org/blog/others/fate-of-girl-child-in- india/#:~:text=Even%20before%20they%20turn%2010,a%20means%20of%20revenue%20generation
https://www.studyiq.com/articles/sex-ratio-in-india/
https://pledgeasmile.com/2022/06/child-abandonment-a-persistent-issue-in-india/
https://savvywomen.tomorrowmakers.com/get-inspired/real-life-stories-women-who-inspired-me-never-give-listicle
https://in.godaddy.com/blog/inspiring-stories-of-7-female-entrepreneurs-in-india/
https://www.stl.tech/new_pdf/pdf/bbusiness/tailoring-case-study.pdf
https://feminisminindia.com/2023/05/01/lack-of-sanitation-and-hygiene-is-a-threat-to-girls-education/
https://sugermint.com/inspirational-story-of-aditi-gupta-menstrupedia-founder/
https://www.studyiq.com/articles/beti-bachao-beti-padhao/
https://www.ncbi.nlm.nih.gov/pmc/articles/PMC5084599/#:~:text=Every%20year%2C%20an%20estimated%20500%2C000,the%20brutal%20massacre%20still%20continues
https://www.cry.org/blog/importance-of-girl-child-education-in-india/
https://www.ncbi.nlm.nih.gov/pmc/articles/PMC5084599/
https://www.ncbi.nlm.nih.gov/pmc/articles/PMC9292773/