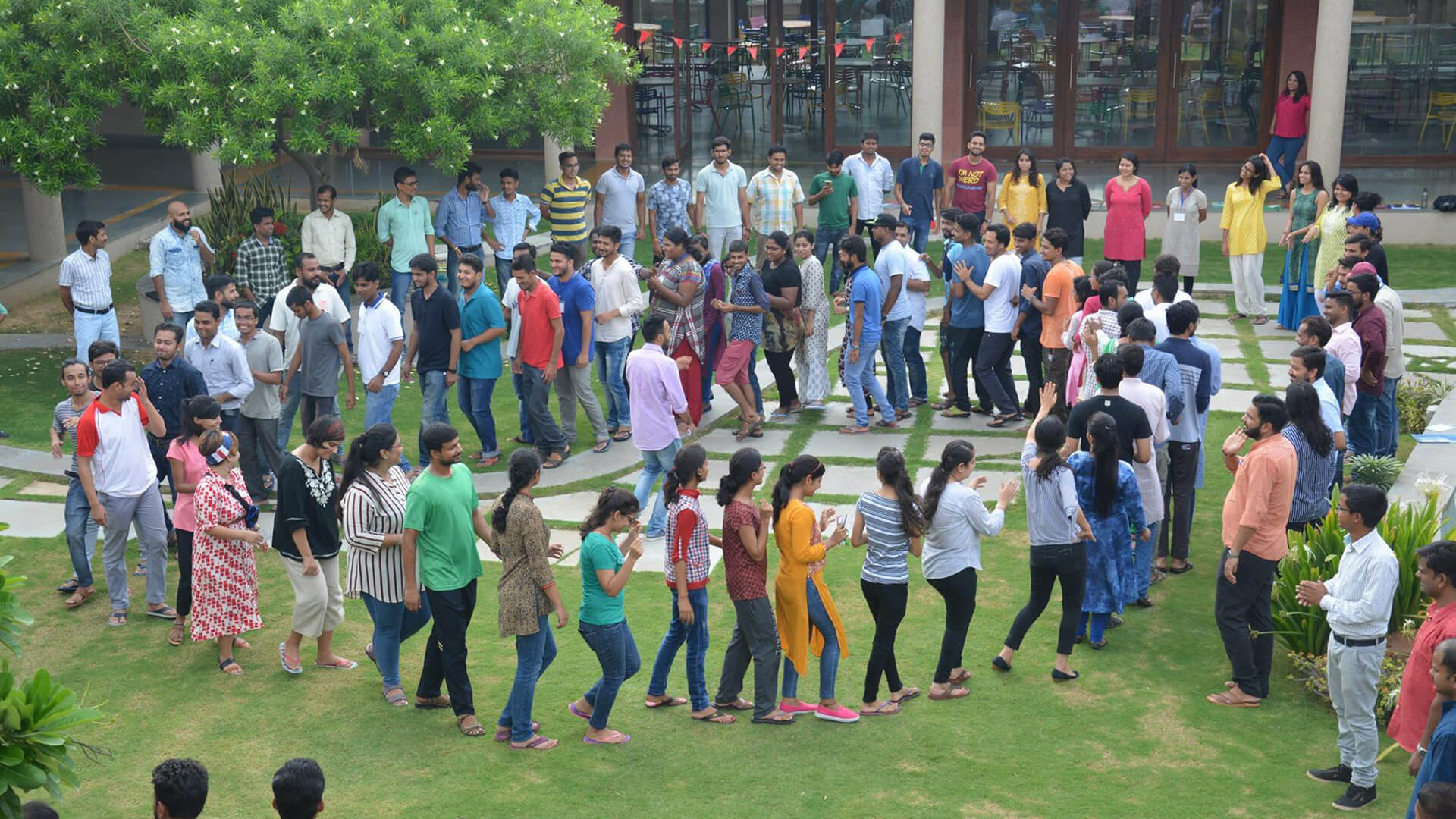 PIRAMAL SCHOOL OF LEADERSHIP, A WORLD CLASS RESIDENTIAL FACILITY
Piramal School of Leadership was born out of a pressing need to build leadership of government officials, and strengthen institutional processes, practices and governance within government.
VISION
An India where every public sector leader undergoes personal transformation and serves with Sewa Bhaav leading to improved service delivery.
MISSION
Transform public systems through capacity building; foster spirit of Sewa Bhaav in leaders across domains of education, health, climate change and justice.
System
Legacy structures do not support innovation and agility
Manpower
Traditional HR systems unable to attract talent, build Leadership pipeline, and grow talent
Leadership
Authoritative, top down approaches achieve compliance and not commitment
THEORY OF CHANGE
Building future-ready and 'sewa-bhaav' oriented public systems leaders
CURRENT INITIATIVES
School of 21st Century Education
Builds Capacity of Educational Leaders to Facilitate Quality Education
Aims to provide cutting-edge curriculum to students and motivate millions of children to attend school across India by focusing on 21st Century Education through implementing Social Emotional Ethical Learning, PISA-skills, Livelihood Education, Aesthetic Literacy, Physical Literacy, and Digital Literacy.
WORKSHOPS CONDUCTED
10STATES
By the Capacity Building program
SCHOOL OF HEALTH
ENABLE STATES TO PROVIDE QUALITY HEALTH SERVICES
This initiative facilitates the personal transformation of mid-level managers through team-building workshops and an integrated Learning Management System.
WORKSHOPS CONDUCTED AROUND
SCHOOL OF CLIMATE AND SUSTAINABILITY
Facilitates Participatory Governance Around Sustainability
Supports Climate-Action Labs, Community supported grassroots innovation across agroclimatic zones, besides strengthening water source sustainability across India.
Krishi Vigyan Kendra (KVK) scientists
in 25 villages by conducting training across 5 States
CENTRES OF EXCELLENCE
School of 21st Century Education
Social, Emotional & Ethical Learning (SEEL)
Aesthetic Literacy
Physical Literacy
Future-ready skills
Digital Literacy Learning Assessment
School of Systems Change
Strengthen state health and education institutions
Revamp roles, provide clarity to drive excellence
Introduce merit-based selection for new recruitment
School of Climate Change and Sustainability
Capacity building of middle managers
Interministerial convergence
Climate action labs
School of Health
Personal transformation of health leaders
Drive systemic transformation of government department
Ensure recognition of AYUSH
School of Justice
Reduce legal dependancy
Digitalization of courts
Improve grassroot delivery mechanism
School of Inclusion
Equip, empower educational institutes
Intergrated livelihoods training
Assisted living
PIRAMAL SCHOOL OF LEADERSHIP, A WORLD CLASS RESIDENTIAL FACILITY
Piramal School of Leadership is built on our 15+ years of demonstrated expertise in strengthening public education and health services. The School of Leadership will be housed within 2,50,000 sq. ft. world class residential facility in Jaipur, Rajasthan.
Testimonials
Leadership skills are critical to enhance the quality of our institutions. This training offered by Piramal School of Leadership (PSL) gives us an opportunity to nourish and enrich the leader within us by cultivating valuable leadership skills.
Mrs. Sandhra Malhotra
Principal DIET Doda, Jammu and Kashmir
Piramal School of Leadership (PSL) has a tremendous potential to positively impact the learning journey of countless students across India. Together, we can create a brighter future through the power of digital education, empowering students with the knowledge and skills they need to thrive.
Mr. Shivji Gaur
Additional Director, RSCERT, Rajasthan State Council of Educational Research & Training, Udaipur
Piramal School of Leadership (PSL) has been instrumental in helping us develop the curriculum on VIJETA program as well as to implement it. Through the program we have seen students take up the leadership role and we hope they will become beautiful leaders for our nation.
Ms Monisha Banerjee (IAS)
District Collector, Bargarh, Odisha
I thank the Piramal School of Leadership (PSL) for their Art Based Capacity Building Training (ACBT) project that helped our teachers to understand the socio-emotional well-being of our children and provided them with an opportunity to explore modern tools and techniques of art therapy.
Dr. Ravi Shankar Sharma, (JKAS)
Director School Education, Jammu
We need to pledge for educating all students of the state under any circumstances. Parents, principals, teachers, school management committee and government have a significant role in ensuring the quality of education in the state.
SHRI HEMANT SOREN, HON. CHIEF MINISTER
Government of Jharkhand
PSL's capacity building workshop has opened new horizons of my understanding about hoe to engage with students inside a classroom. The kind of skills I learned from these training sessions have transformed me into a much better professional.
Seems Singh
CM Rise School, Raigaon, Satna, Madhya Pradesh
I have been a part of PSL's Art-Based Capacity Building Training (ACBT) program, and I have observed tremendous transformation and growth in my professional life. Now I understand my students better, their emotions, and their thought processes.
Mr. Waseem Khan
Teacher, School of Education Department, Jammu and Kashmir
Whatever you are experiencing personally has an impact on your work…I appreciate the Piramal Foundation for organising this event and choosing this place as the location
MR YOGENDRA SINGH, (IAS) DISTRICT MAGISTRATE
Samastipur, Bihar
PARTNERSHIPS