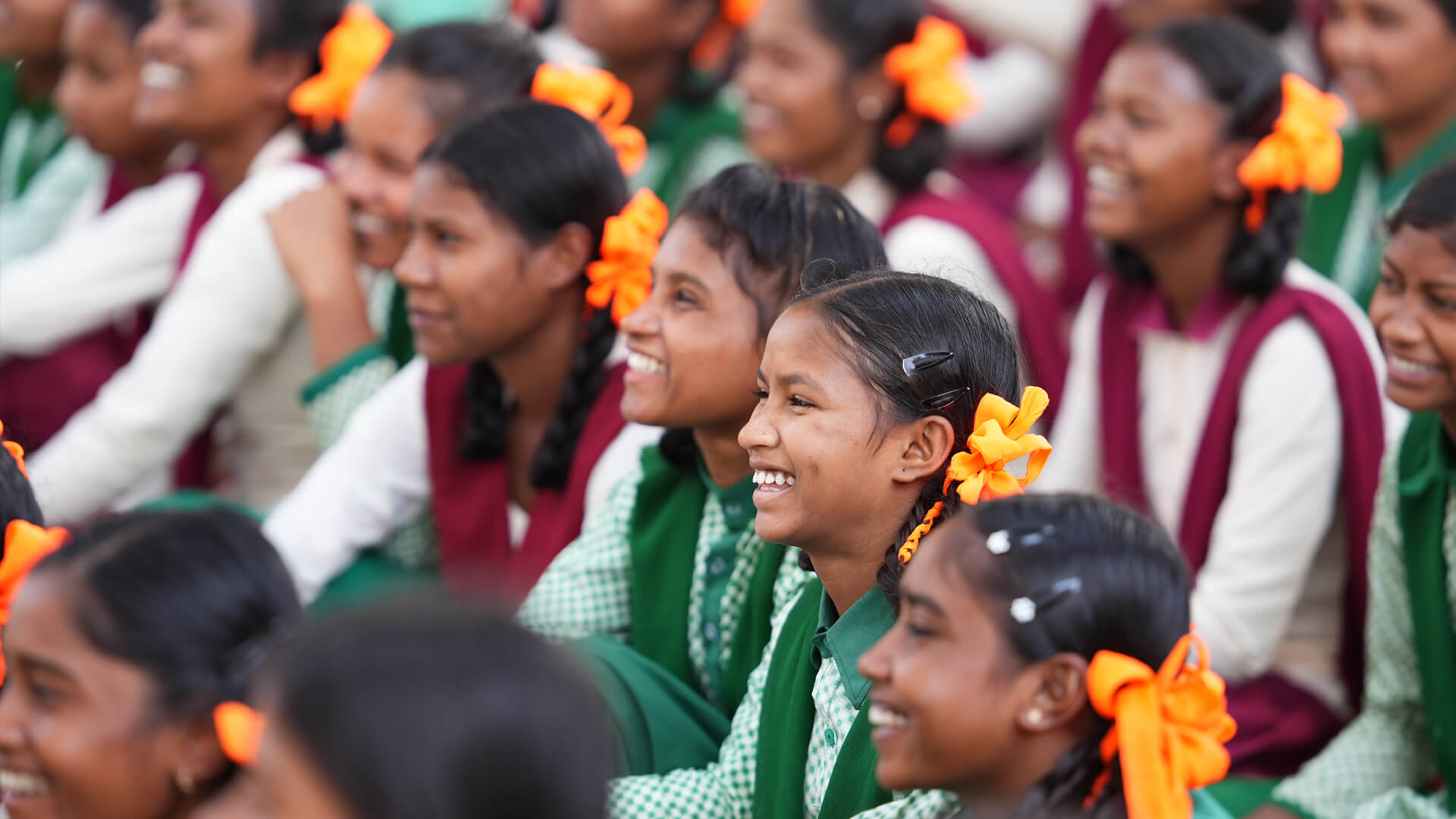 The Aspirational Bharat Collaborative represents a synergistic partnership between NITI Aayog and Piramal Foundation. Transitioning from its precursor, (Aspirational Districts Collaborative), it is a renewed endeavour focused on working with District Administrations to facilitate Last Mile Convergence and Hyper-Local Collaboration. We have deployed teams in 150+ districts to support District Administrations to address complex demographic, geographic, and socio-economic issues of India's most backward districts.
VISION
Support India to become a Developed nation by 2047 to feature as one of the Top 3 economies of the world by improving the quality of life of the bottom 100+ million population of the country.
MISSION
Building Hyper-Local Collaboration with Civil Societies, facilitating last mile Convergence at the Block and Gram Panchayat level and driving Campaigns to saturate schemes to improve delivery of services to Citizens of Aspirational Blocks and Districts.
EDUCATION
40% students
till Grade 5 unable to read or write
MONTHLY INCOME
< ₹ 5,000
for 81% population
A COLLABORATIVE PLATFORM TO CATAPULT BHARAT TOWARDS TRANSFORMATION
Facilitating the confluence of SAMAJ, SARKAR, BAZAR and SANCHAR to strengthen communities' ability to own and lead hyper-local change
CATALYZING LARGE-SCALE BEHAVIOR CHANGE
Multiple Behaviour Change Campaigns are being planned and executed across 150+ Districts centred around various themes relating to health and education.
Anaemia Mukt Campaign
Shifting from traditional Symptomatic screening to Digital screening
Anaemia Mukt Campaign addresses anaemia,a serious public health challenge in India with over 50% prevalence among pregnant women, infants, young children, and adolescents through mass Digital screenings. Over 66,000 students have been screened for Anaemia across 28 Aspirational districts.
Model Village Health, Sanitation and Nutrition Day (VHSND)
VHSND is a platform to provide services related to maternal, child health and nutrition. It can play a key role in ensuring primary health care services at Village level by enhancing the demand for services and make health and nutrition a public movement. Till date 12,000+ model Village Health Sanitation Nutrition Day (VHSND) sites have been established, and a 21% increase in ante natal care registrations, 16% increase in institutional deliveries and recorded 21% increase in early initiation of breastfeeding has been recorded
Buniyaadi Shiksha Abhiyaan
Mobilizing volunteers to conduct community classes in foundational literacy and numeracy.
Buniyaadi Shiksha Abhiyaan aims to strengthen the efforts of different State initiatives taken under the Foundational Literacy and Numeracy Mission. It focuses on improving district administration collaboration, middle managers' capacity building, with a community-driven approach to increase community participation in student learning through community classes.
Google Read Along
Aligning with NAS and NEP 2020 recommendations, Read Along was launched to support children in acquiring Foundation Literacy and Numeracy (FLN) skills. Read Along is an android app to improve reading and comprehension skills of children in the age group of 5-11 years. Read Along strives to encourage every child to learn to read with the magic of their voice - anytime, anywhere!
Google Read Along is launched in 30 aspirational districts with an aim to improving the literacy skills of 3 lakh children.
A multi-stakeholder collaborative that aims to bridge the learning gap for students from low-income communities by driving effective, and equitable EdTech access as well as adoption. Under BEI's purview, EI Mindspark's mobile application has been launched in 5 aspirational districts - Korba, Rajnandgaon, Mahasamund, Kanker and Kondagoan of Chhattisgarh for Grade 6th to Grade 9th students of 600+ government schools.
The initiative enabled a community-led model through which 33,000+ students and 8,000+ parents have been oriented, 40+ district and block-level middle managers workshops conducted and 120+ volunteers onboarded to hold mohalla classes to create an environment conducive to ed-tech adoption.
Currently, 14,204 students are actively using the ed-tech platform with an average weekly engagement rate of 25-35%.
Demonstration Schools
5000+ Demonstration Schools have been established, with the focus to create inclusive learning spaces for students and co-creating school transformation roadmaps. This initiative has supported 620,000+ new student enrollments, re-enrolled 127,000+ school dropouts and achieved 12-17% improvement in Student Learning Outcomes.
Saksham Bitiya Abhiyaan
This campaign has worked extensively in breaking the inter-generational cycle of poverty for adolescent girls (14-18 years) by building access to health education and skilling opportunities. The campaign will impact 2 Lakh girls by developing 2000 Panchayats with ZERO Drop out of girls between 5-12 years.
Mera Madrasa, Meri Pechchan
This campaign aims to transform Madrasa into holistic, inclusive and mainstream learning institutions. It will focus on 200 Madrasas in 9 aspirational districts and impact 40,000 students.
Khush-haal Bachpan Abhiyaan
This campaign is focused on improving early childhood care and development among Children (0-6 years), reduction in Maternal Mortality Rate and Neonatal Mortality Rate by nudging institutional deliveries through behaviour change drives, robust community forums and enhanced scheme execution at 5,000 AWCs, thereby impacting 1 Lakh children.
Jal Swavlamban Campaign
Jal Swavlamban Campaign encourages self and community water management through Pani Samitis and Village Water and Sanitation Committees (VWSCs), fostering a sense of ownership among users. It has strengthened 300+ Pani Samitis by mobilizing 35,000+ VWSC (Village Water and Sanitation Committee) members in 25 districts.
Reach
8,862+
Panchayati Raj Institution (PRI) Members
25,000+
SHG Federation Members
500+
Local Media Personnel
COLLABORATING TO SOLVE FOR

HYPER-LOCAL PROBLEMS

Target to set-up network of 6000+ hyperlocal collaborators and leverage their deep community knowledge to facilitate social behaviour change. These hyper local collaborators include NGOs, Youth, Media, Faith Leaders, Panchayats and Self Help Groups who can transform the lives of their communities, in close co-ordination and under the leadership of the district administration.
MULTIPLE COLLABORATIONS HAVE BEEN FORGED WITH HYPER LOCAL COLLABORATORS TO SUPPORT CAMPAIGNS IN ASPIRATIONAL DISTRICTS
Local NGOs have a deep understanding of their communities and lead change to implement on-ground campaigns by enlisting local youth to be "the feet on ground".
Youth volunteers help execute campaigns to improve student learning outcomes and school enrolment rate.
Media with a desire to play a role in development, engage to drive narrative and enable large scale behaviour change
Faith leaders actively engage in sensitizing communities on various health issues.
Gram Panchayat members and Panchayat Pramukhs mobilized to support their communities.
Self Help Groups align and support district efforts, enabling community groups to stand up and take action
FACILITATING CONVERGENCE FOR LAST MILE DELIVERY
Strengthen inter-sectoral convergence among 10 key ministries and build alignment and linkages between various government programs and schemes, enabling 100% utilisation of schemes and creating a firm foundation for sustainable development in these districts.
CAMPAIGNS IMPLEMENTED
The COVID-19 pandemic had already taken a toll on the world as well as India since March 2020. The country went to a sudden halt as the complete lockdown was imposed to curb the effect of the COVID-19 infection barring few essential sectors.
Piramal Foundation actively supported the initiatives of the Government in 112 Aspirational Districts to check the spread of the infection and mitigate COVID-19 impact. It leveraged its existing on-ground network as well as linkages with the Government at national, state and district levels.
During the third wave of COVID-19, various campaigns were designed and implemented with the primary focus on dispelling myths and misconceptions around vaccination, addressing vaccine hesitancy and promoting COVID Appropriate Behaviors among the community. The team mobilized and oriented 7771 Pradhans oriented, 15303 Panchayat and ward members, 6328 Faith leaders and 2258 Tribal Leaders. The Foundation impacted 2.73 million people through these COVID-19 awareness and vaccination campaigns
CASE STUDIES
Surakshit Hum Surakshit Tum Abhiyaan
Addressed vaccine hesitancy reached 3.76 lakh home care beneficiaries with over 22 lakh people vaccinated in 112 districts.
COVID-19 response campaign
Addressed vaccine hesitancy reached 3.76 lakh home care beneficiaries with over 22 lakh people vaccinated in 112 districts.
Jal Swavalamban Abhiyaan
Addressed vaccine hesitancy reached 3.76 lakh home care beneficiaries with over 22 lakh people vaccinated in 112 districts.
Saksham Bitiya Abhiyaan
Addressed vaccine hesitancy reached 3.76 lakh home care beneficiaries with over 22 lakh people vaccinated in 112 districts.
Testimonials
Great intervention carried out by Piramal Foundation in Narmada district. If this level of commitment being maintained in district, I am confident that social indicators show positive movement.
DR. S JAISHANKAR
Minister of External Affairs
Content quality of Pratham Book Library kits are rich, comprehensive and gradual in proficiency level.Such interventions of Piramal Foundation are highly admirable and inspirational
MR KIRIT PATEL
Principal, Jalat Primary School(Dahod,GJ)during an orientation session for Pratham Book Library kits to help children read and discover the joy of reading.
PARTNERSHIPS