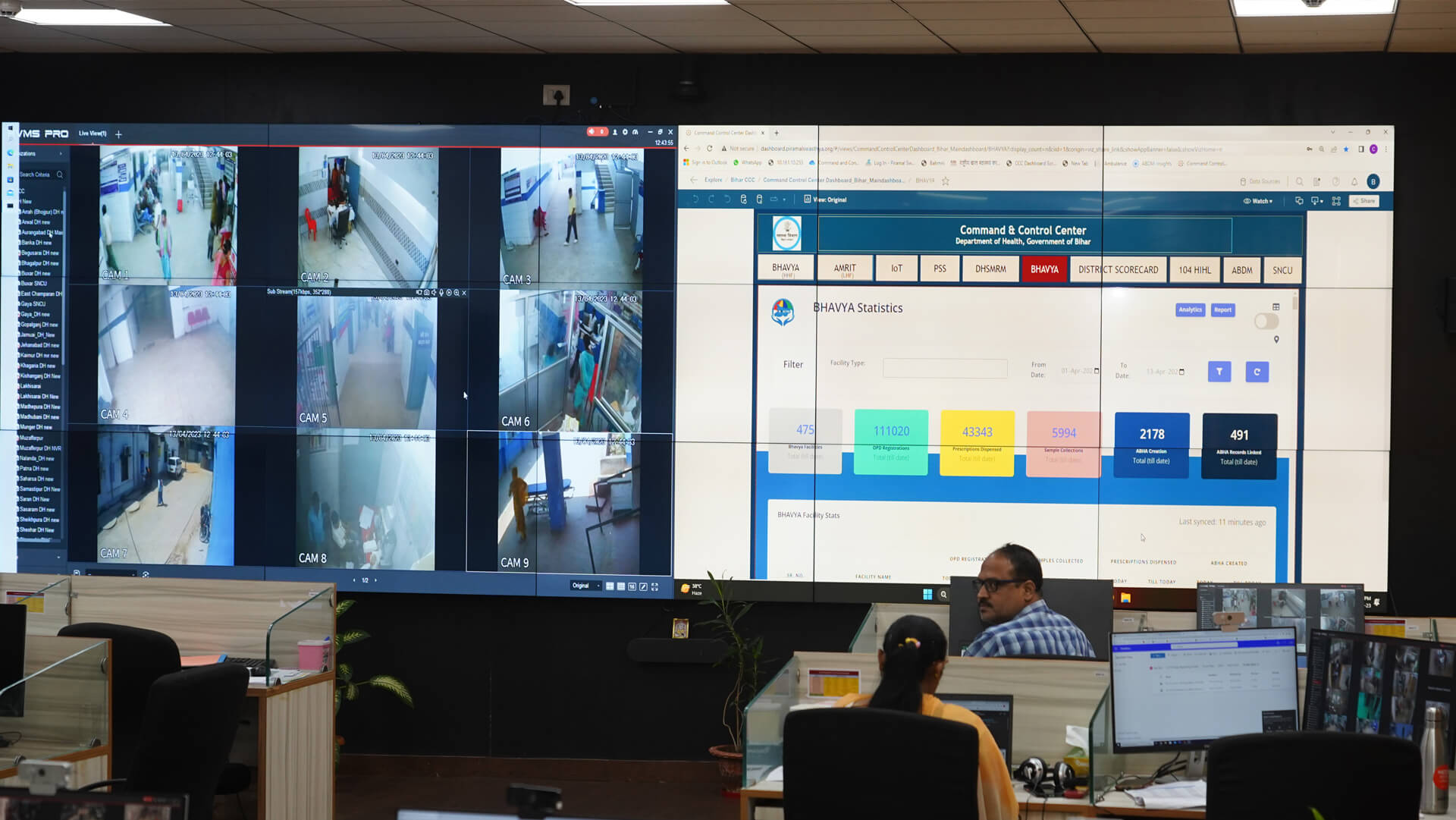 Digital Bharat Collaborative is a holistic digital transformation that re-engineers processes, improves observability, enables governance, and empowers people at all levels.
VISION
An India where every citizen enjoys equitable access to quality public service and equal opportunity to live to their fullest potential by Building state capacity, Empowering communities, Leveraging Digital Technology.
MISSION
Strengthen public systems with digital transformation to promote access to quality services and equal opportunities for all Indians.
VISION
Lack of clear long term digital vision
CAPABILITY
Low capability to execute transformation road map
GOVERNANCE
Suboptimal tech use, siloed systems, restricts data-based decision making
CONVERGENCE
Poor Inter department convergence
THEORY OF CHANGE
DIGITAL TRANSFORMATION TO PROVIDE CONTINUUM OF CARE
AYUSHMAN BHARAT DIGITAL MISSION (ABDM) IN BIHAR
Implementation of digital architecture for improved healthcare services
To further the reach of services to the underserved, this initiative advocates digitization and has supported the implementation of Ayushman Bharat Digital Mission (ABDM) in Bihar. It has impacted 38 districts in the state. The State government has released INR 300 crore to on-board a service provider to scale up implementation of Mukyamantri Digital Health Yojna on the line of the ABDM architecture.
COMMAND & CONTROL CENTRE
Strengthening Health Care Systems for the Future
The Health Monitoring Command and Control Centre in Patna, Bihar, provides data visualization over 45 dashboards and CCTV monitoring of service delivery in all district hospitals. This has inspired the setting up CCC in 2 States namely Assam and Uttar Pradesh.
LAST MILE SERVICE DELIVERY THROUGH AMRIT PLATFORM
Implemented the Accessible Medical Records via Integrated Technologies (AMRIT) platform to support clinical excellence for over 65 lakh beneficiaries. AMRIT is an Electronic Health Records platform developed by the healthcare initiative of the foundation and is integrated into the Ayushman Bharat Digital Mission (ABDM) sandbox to improve public primary healthcare services.
IMPACTING HEALTH SERVICE DELIVERY : COMMUNITY OUTREACH
MOBILE MEDICAL UNITS (MMUS)
Providing primary healthcare services in hard-to-reach areas of Assam
To increase the reach of healthcare services in Assam's remote villages, MMUs focus on screening, identification, referral and management of Hypertension, Diabetes, TB, Defective Vision, Epilepsy, Malaria along with Ante Natal Care and minor ailments. 80 doctors and nurses led MMUs across 30 districts were able to cover 62,00,000 rural population.
104 HEALTH LINE
Operates health information helplines in 4 states that support states in monitoring healthcare needs.
It helps them to provide 24x7 medical advice using validated algorithms and disease summaries, counselling, grievance redressal, mother and child tracking services and early childhood development impacting ~35 million beneficiaries in the last decade.
SANJEEVANI - VILLAGE HEALTH OUTREACH PROGRAM
This Program is once-a-month,
Fixed date outreach initiative that results in converged health services at the village level and serves as an extended arm of Sub Centres/Health and Wellness Centres. It provides early identification, Screening, referral, follow-up and free medicines for effective chronic diseases management. With a total population coverage of 62 lacs the program has clocked total visits of 86,81,349
Testimonials
We were looking for an organization/agency who can support us in reaching, hard to reach areas of the district to provide quality health services to the communities. We are fortunate to have Piramal Foundation who has the experience of managing and running Mobile Medical vans in many states of India. Piramal has the experience of running more than 300 Mobile Medical Vans across India.
Shri. Ananya Mittal
IAS, Deputy Commissioner cum District Magistrate, West Singhbhum
It was very special to hear my unborn child's heartbeat through Fetosense and to have the CHO support me as I went through parenting. Many thanks to Piramal Foundation and Niramay.
NASIMAN BEGUM
Mother, Darrang
My diabetes is under control now as I am exercising regularly.Now I feel have overcome issues with Diabetes and have found the way to sustain my life ahead with healthy habits. I am thankful to the SPARSHA Team for their services in our village
I am thankful to SPARSHA MMU Team specially to Dr. Bijay Tirkey who walked an extra mile to save me by guiding the PHC Doctor because of which i was able to get good treatment in the hospital during my delivery
DIPA GARH
A 25-year-old pregnant woman,Ushapur Chakalia village,Charaideo District,Assam
I am thankful to MO Dr Rajkamal Das who treated and guided my child for 9mths to live a healthy life. My son was diagnosed with hydrocephalus when he was 3mths old and i desperately called the 104 helpline for seek help.
RITU MANDAL
Mother of one year old baby
PARTNERSHIPS